Only the soft sounds of sucking his thumb next to me, otherwise it's just black.  The other kids are asleep, and I lay next to him as he asked.  We had tried forever to have him stop sucking his thumb, but it's all he had for so long, his only comfort month after month with no mother there when he felt alone, when he felt intense fear.  Just a thumb, it's all he had.  The only way to sooth himself was himself.
It wasn't that long ago when it was time for bed, he he wouldn't say goodnight, he would scream, angrily.  He wasn't showing fear, it was anger.  He would yell at us, his tiny frame filled with rage, firey until he fell asleep.  As tired parents, we weren't sure what to do, he'd push us away, then scream when we left.
Many children who have experienced loneliness or fear before the age where they have any language, may develop a chronic sense of loneliness and fear–but without the language they aren't sure where these feelings are coming from–feelings but without concrete memories.  Their brains were still forming and were not able to to form tangible memories to connect to these deep feelings.  Fear is vulnerable–it's scary and can present horrible feelings of being unloved, unsafe and not valuable.   Those feelings are so scary and painful, that anger can mask them temporarily, it can feel more empowering, like you're trying to do something about what's happening to you, it's more forceful that the feelings you have settling inside, even if you can't actually change anything.
It's hard to grasp memories you don't have language for, when you were too little.  To have feelings, but no understanding of why.  When you have tasted deep loneliness and fear, but can't explain the source.  To feel pain you can't remember, and that you can't find escape from now.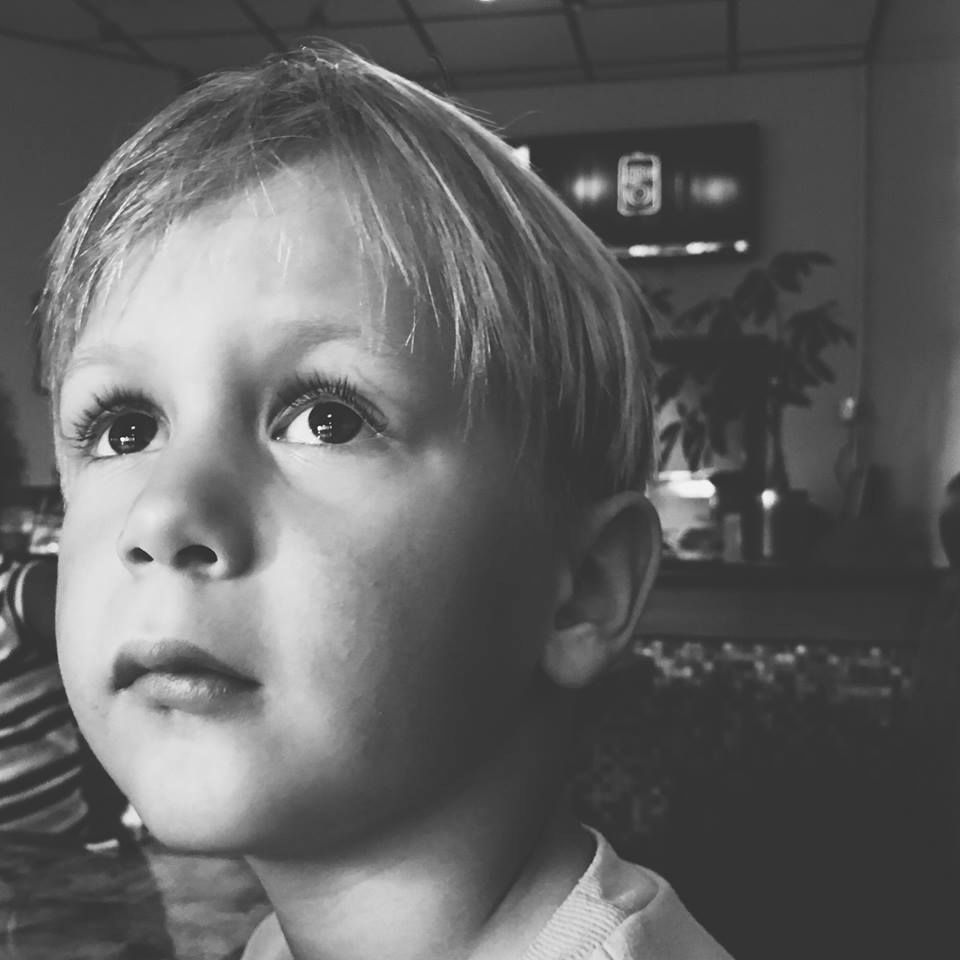 And so we try to find words together.  Catch them, identify them, and replace them with truth.  Tap into the hidden feelings and memories, say them out loud.
As we lay in the dark, before sleep takes him over,
"Elijah, one time, when you were too small to walk, were you ever all alone?"
My tough little guy, well, tough on the outside but very sensitive on the inside, instantly lays his green bean arm on me, I am still surprised by his initiated touch with an instant, "Yes."
"Was there a little baby one time alone in his crib and no one heard him?  And was he scared and no one came to him?"
His thumb is back in his mouth with his blankie, and I feel him nod as the blanket moves up and down.
"I bet that felt scary and sad," I tell him, I don't prod him for answers, I want to help paint.  I reach to hug him, but he won't let me right now.  His back is to me, and he has his thumb, and he's remembering.
"Do you want to hear a story?" I ask him
"Yeah," he whispers just over his thumb.
"Once, there was a teeny tiny baby boy…"
"Was it me?"
"Yes."
"And that little boy lived in a crib.
And one day me and daddy went to go see that little boy.  And he was the cutest little boy!   He was so little and sweet, with big, big eyes.  I loved it when he looked at me with his big, beautiful eyes.  He was all alone with no one to pick him up, so we picked him up.   We said, "Look at this special guy!  He is so precious and good.  We like and we love him."   And picked him up and rocked him and we held him.  He was the cutest.  And we said, "We'll have this baby forever and always take care of him.  He will always have us, and we'll feed him all the food.  And give him his special blankie."
Elijah is making happy sounds, they sound young, like a baby's sounds, even though he is almost 5.
"And do you know what that little baby liked?"
"Wha?"
"He loved it when mommy would pull his ears like this.  The baby would get so sleepy and his eyes would start to close, and he would be safe and warm and cuddle with mommy.  And he was the cutest baby in the whole world.  You should have seen him, he was the cutest!"
Elijah makes more happy sounds, "Ahhhh, dee – dee…"
He slowly raises his tiny hands up as I finish my short story, palms open and away from him.  And with a tiny baby voice, slow, as if he is just learning to form words, "Ma – Ma.  Ma – Ma."
Hearing the story, he is that baby.  He is that little boy, but he is hearing the words he didn't have back them as he lives it over, the neural loop is forming fresh.  That baby is hearing, "Good" and "Loved" and "Precious" and "Safe."
"Oh here he is, here's my tiny baby,"  He snuggles into me the way he couldn't while I held him in Russia, he had been stiff and rigid.
"Ma -Ma" I hear the tiny baby voice coming from him.
That angry explosive boy is gone, he is a safe boy in my arms.  He always is now that he's here with us, but it's hard for him to know the deep, forever truth of that because of his past.  The lonely boy, drowning in fear, who couldn't get his needs met no matter how hard he tried from the inside of his crib.
I rock and shush him like I did with weeks old Finley.
"Ma – Ma, pull my ears," I do and he slowly falls asleep.

***
Trying to control his angry bedtime behavior was fruitless.  Connecting to the root of the anger, which was masked fear and a sense of feeling unloved, and then replacing it with connection and a sense of being wanted, nurtured and cared for is what let that fear and anxiety seep out of him to allow him to be peaceful at night.
Freedom.
It is for freedom that Jesus has set us free.  Stand firm, then, and do not let yourselves be burdened again by a yoke of slavery. //gal. 5.1